See our teaser "WHO ARE WE?" Since 2006, the Swiss MNT Network gathers the main Swiss institutional actors in the field of micro and nano technology. Membership is also open to industrial partners as supporting members with the objective to strengthen the Swiss industrial place by generating collaborations between researchers and companies  (see Members).
Coming Events:
SNC 2023
Please save-the-date for the Swiss NanoConvention 2023 which will be held in Neuchâtel from June 15-16, 2023.
Full details are now available at:  www.swissnanoconvention.ch
News :  September 8, 2022
---
Swiss ePrint 2022
The Swiss Conference on Printed Electronics and Functional Materials was organised at OST Buchs (SG) from September 5-6, 2022. Over 100 participants and 15 exhibitors were present for the 2-day, in-person event. 
Congratulations to the student poster prize winners, a contest sponsored by the Swiss MNT Network – pictured below with Swiss ePrint 2022 General Chair, Katrin Albrecht of OST (click image to see large version).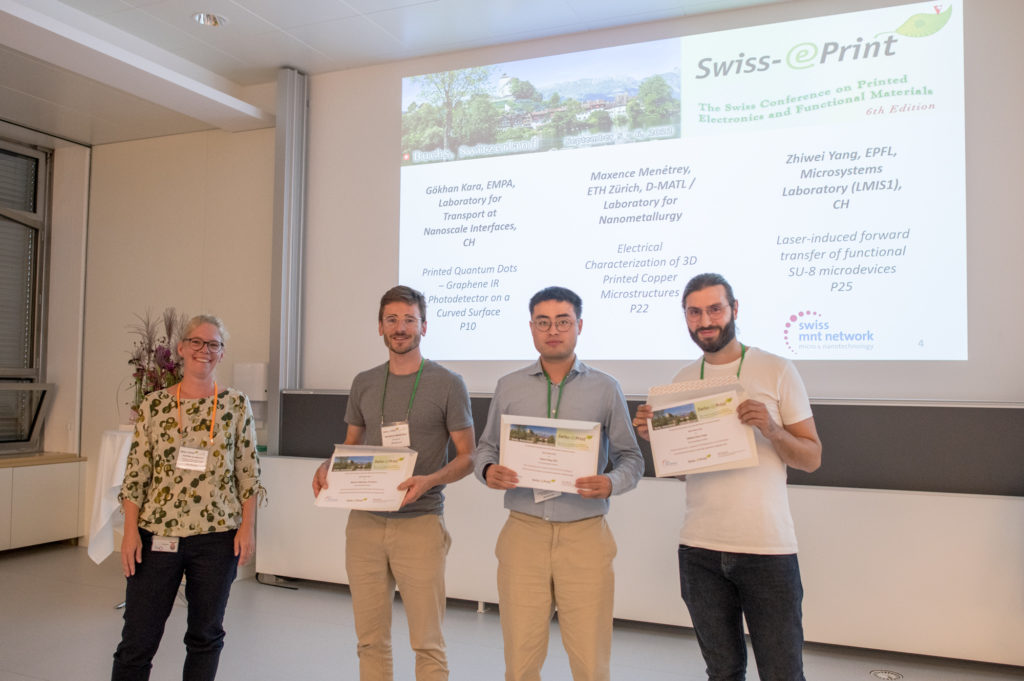 » More info at:  www.swiss-eprint.ch
---
News :  July 11, 2022
---
Awards presented at SNC 2022
Swiss Nanotechnology 2022 PhD Awards
Best Poster Award SNC 2022
Best Image Award SNC 2022
---